Microsoft released Windows 11 with a slew of intriguing new features and enhancements, making it an alluring operating system for users across the globe. You must use the correct software to maximize all the improvements while contributing to your productivity and efficiency.
These are the top Windows 11 Microsoft Store apps available right now, so explore our app selection and make an informed decision. We've covered everything from productivity and entertainment tools to customization apps.
Let's get started!
Epic Games Store has become a powerhouse in the gaming world, offering users many free games and exclusive titles that keep them occupied and entertained.
This great app gives players access to some of the best game releases and works as a gaming platform on which you can enjoy multiplayer online games with your friends and family.

As you can see from the image above, the rating on the Microsoft Store is 4.2 stars out of 5, with 2K inputs from users. This allows us to conclude that the app has performed well for other users.
Pros
Wide selection of games with diverse topics, including indie gems and blockbusters alike
Free games are regularly offered to users on the platform
Some of the game releases are exclusive to the Epic Games Store
Cons
Social features of the platform can be improved
2. Telegram – Secure and Feature-Rich Messaging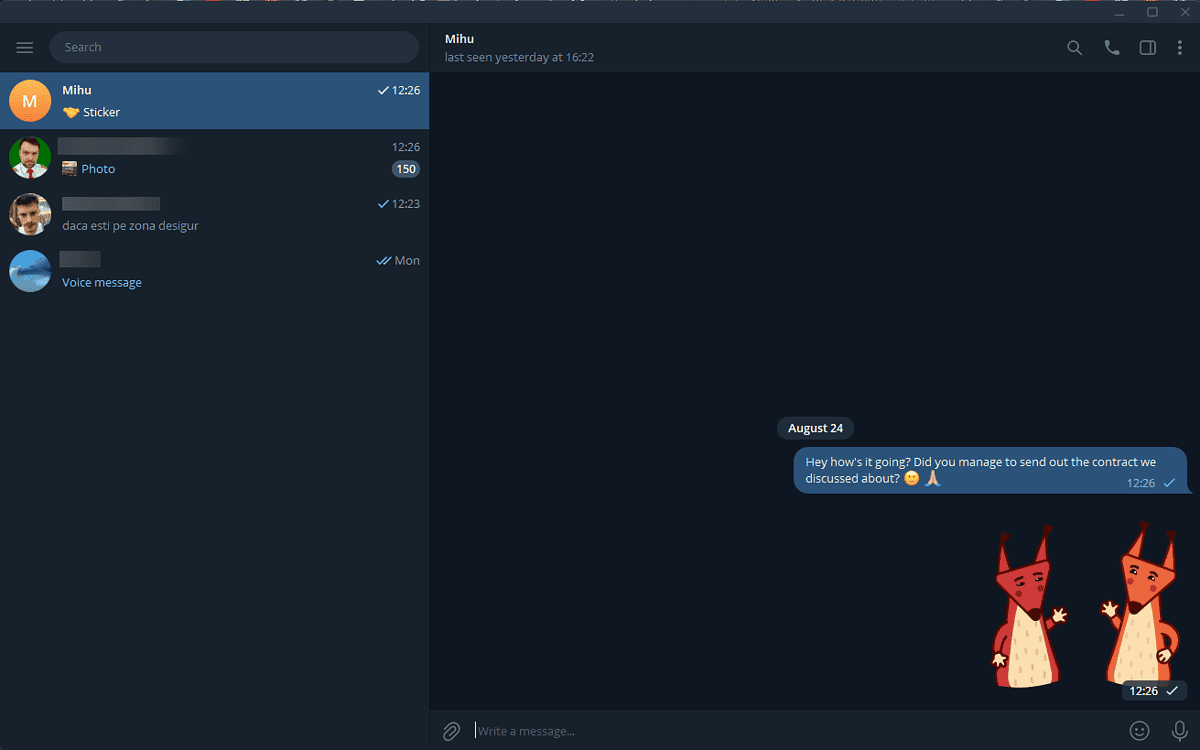 Telegram is celebrated in the privacy community as being one of the most secure and private messaging apps, and for good reason. The encryption on Telegram is even better than WhatsApp's and offers some other nifty features like animated emoticons and easy access to GIFs and stickers.

Telegram has received 718 ratings on the Microsoft Store and averages 4.4 stars out of 5. This confirms that most Telegram users agree with our testing team and that this is a great app to have in your arsenal for communicating freely with your loved ones.
3. Opera Browser –  Speed and Versatility Combined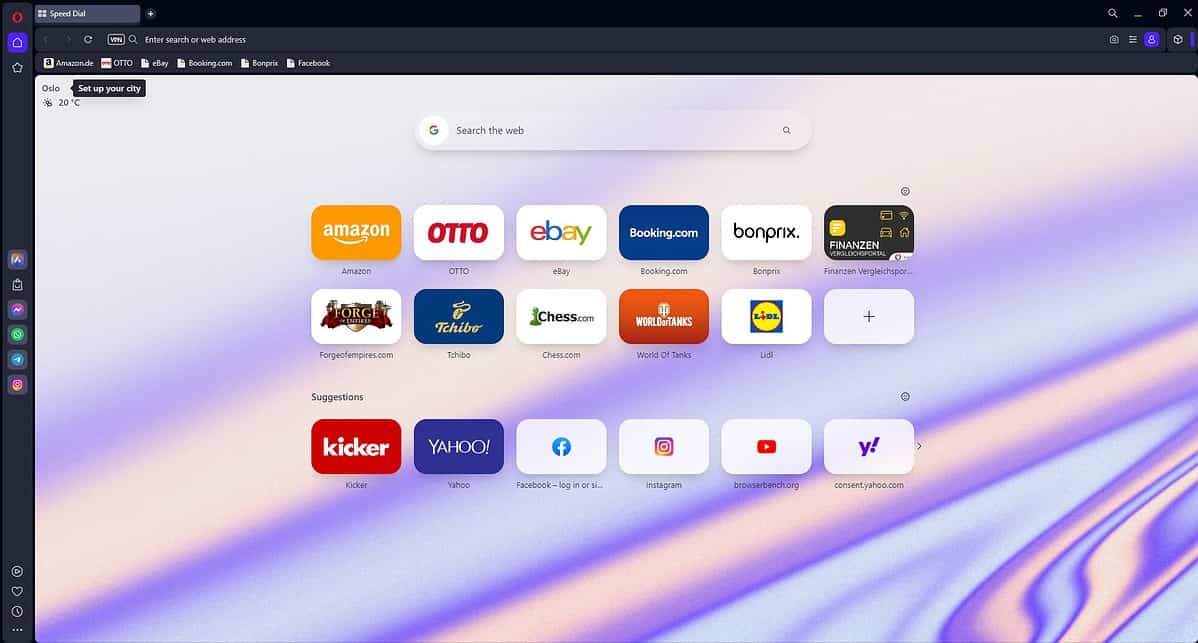 Opera provides an effortless browsing experience that combines speed, security, and many built-in features. Opera is made to preserve your privacy while boosting your online productivity with a clutter-free layout, an integrated ad blocker, and a free VPN.
It is the perfect option for Windows 11 users thanks to its distinctive sidebar feature, which gives rapid access to necessary functions.

Opera has 66 ratings on the Microsoft Store and averages 4.4/5 stars, which seems fair from our perspective. During our browser benchmark tests, Opera has proven to be the fastest browser on the market.
Pros
Fast browsing with a built-in ad blocker
Free VPN service to ensure privacy and security
Customizable sidebar with quick access to bookmarks
Discord integration
Social media control tab
Cons
The extensions library is limited compared to other options
Some websites might find issues while rendering
No introduction is necessary for Microsoft 365 Personal. It continues to be a crucial productivity suite for professionals and students alike because of its well-known tools, including Word, Excel, PowerPoint, and Outlook.
With its cloud integration, you may collaborate easily while accessing and editing your documents from any location.
Microsoft 365 Personal also includes 1TB of cloud storage, some unique advanced security features, and the apps we've all grown to love, which comprise the 365 suite.

As you can see from the image above, the Microsoft Store doesn't show any ranking for this item but informs users about its price/year.
Pros
A powerful suite of productivity apps covering a wide range of tasks
1TB cloud storage included in the package
User-friendly interface to simplify usage
Integrates perfectly with cloud storage for real-time collaboration
Cons
The subscription-based model can be expensive for some users
A significant amount of disk space is required to install all apps
5. PDF X – Your Go-To PDF Editor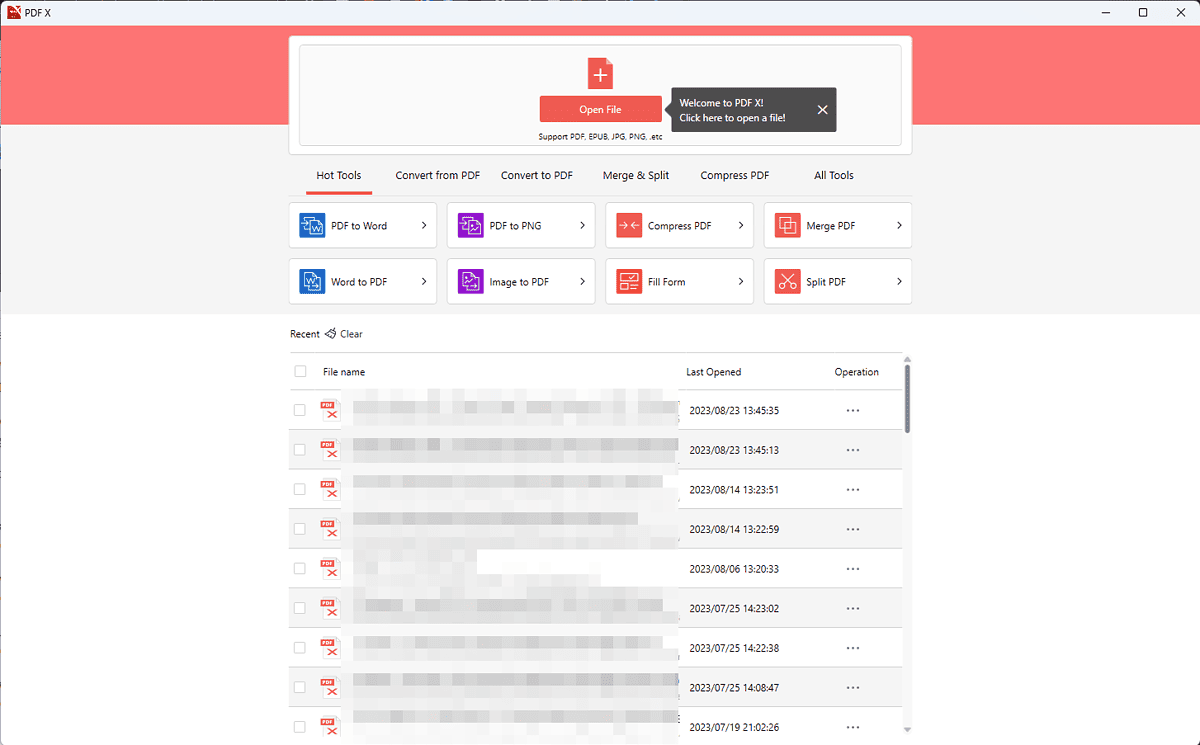 PDF X is one of the best free PDF editor and reader software. It covers all PDF-related user needs, including viewing files, editing them, printing, and even allowing you to annotate text sections easily.
This great Microsoft Store app fully supports PDF, PS, Tiff, CHM, Images, DjVu, DVI, Fiction Book, ODT, and even Fax files, so you won't need to worry about compatibility.

As you can see, PDF X has 9K ratings, with an average score of 4.7/5 stars on the Microsoft Store, making it a great choice.
PDF X's Premium version also enables users to transform PDFs to Word, PNG, PDF files, and even Word files to PDF. This software allows PDF compression, merging, and even splitting to complete the variety of possible PDF usage.
Pros
Enables users to edit text, images, and links inside PDFs easily
The free version allows users to edit and annotate PDFs
Converts a variety of file formats to PDF
Offers PDF merging and splitting capabilities
Helps users protect PDFs with passwords and encryption
Cons
Some of the advanced features might require some time to learn
Even though it has a free version, the entire suite is available only with a subscription
6. Slack – Team Collaboration Made Easy
Slack has real-time messaging and file-sharing features that have revolutionized team collaboration, especially during lockdowns when most people worked from home.
You can easily create and manage specialized channels for tasks, groups, or interests to enhance collaboration and reduce email clutter.
On the Microsoft Store, Slack has an average score of 3.9/5 stars and received 95 ratings. Even if the rating might seem low, in our experience, Slack is a compelling app that can help your team communicate more efficiently.
Pros
Real-time messaging
Can share files, documents, and media
Seamlessly integrates with various productivity tools
Cons
Search functionality could be improved
The free version has limitations on message history and storage
7. Trello – Organize Your Projects Effectively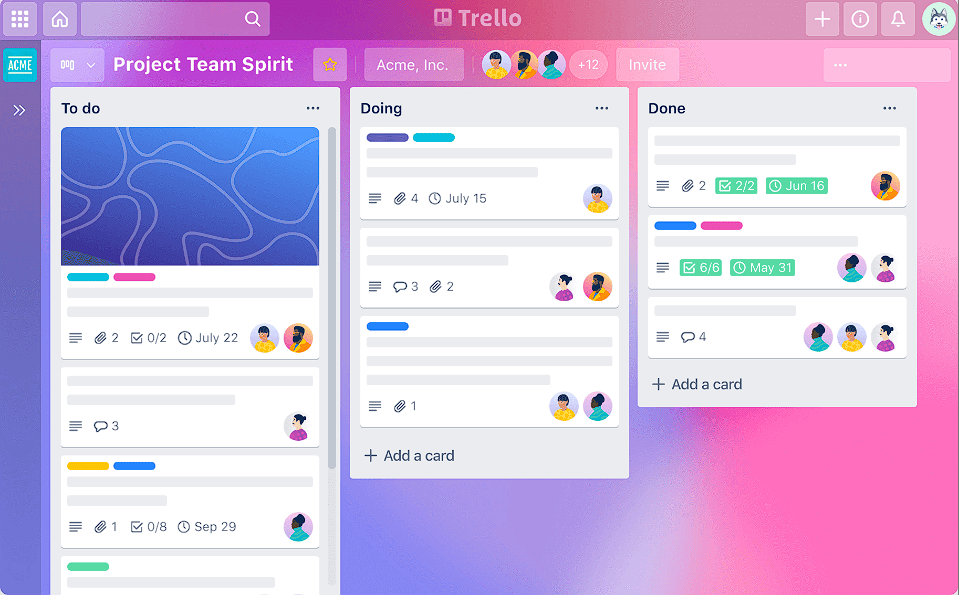 Project management is made more accessible by using Trello's boards, lists, and a card system. This software ensures that everyone on the team is aware of their obligations while also being able to create boards for various projects and fill them with assignments.

As you can see, Trello has an average rating of 3.6/5 stars and 80 ratings, which might not reflect the efficiency of this software. I have used Trello to optimize my workspaces and was impressed with its capabilities.
Pros
Provides a visual organization system for clarity
Easy-to-use drag-and-drop functionality
Enables collaboration through comments and attachments
Cons
The analytics and reporting features are limited in the free version
Integration with third parties will require a paid license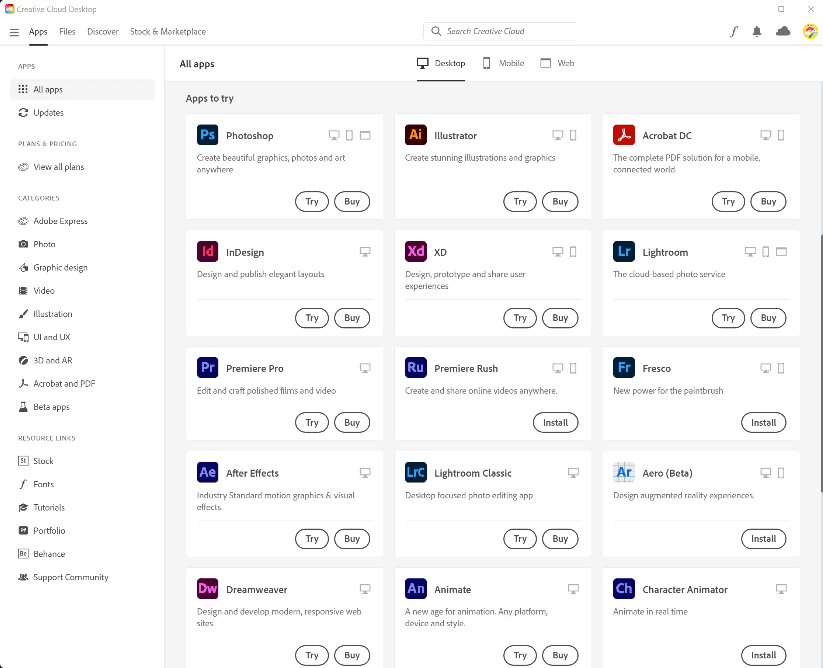 Adobe Creative Cloud offers creative professionals a thorough suite of applications like Photoshop, Illustrator, and Premiere Pro.
These tools enable users to create outstanding visuals, edit and modify images, and create excellent-quality videos. The only question remains: Which of the Adobe Creative Cloud options is the app for you?

Like other apps from this list, the number of reviews and the average score doesn't necessarily represent reality, and the same principle applies to Adobe Creative Cloud. The software only has 17 ratings and an average score of 3.5/5 stars.
Pros
Industry-leading creative tools with a variety of functionalities
Seamless cloud storage enables quick sharing and remote access
Features are regularly updated
Cons
The subscription pricing model could be expensive for some users
There is a steeper learning curve than in the case of other software
9. BreeZip – Simplified File Compression
BreeZip is a fantastic free file archiving option that offers even more valuable features than WinRar for Windows systems. This app is fully compatible with various archive files, including ZIP, RAR, 7-ZIP, TAR, Gzip, and others.
This app allows you to open, browse, and extract archive files easily while offering users an easy-to-use interface similar to the built-in Windows File Explorer.

BreeZip has an average rating of 4.8/5 stars, with 7K users sharing their opinion on the capabilities of this software. As we also considered during our testing, this software has some great features that should not be ignored.
The Premium version of this app adds some other useful features, like the ability to repair corrupted archive files, preview photos from archives without extraction, and even compress videos, images, and PDFs.
Pros
Intuitive user interface with quick access to all options
Fully supports a variety of formats, including ZIP, RAR, and 7z
Integrates seamlessly with Windows Explorer for fast access
Cons
Lacks some advanced features found in Premium alternatives
The free version will display ads occasionally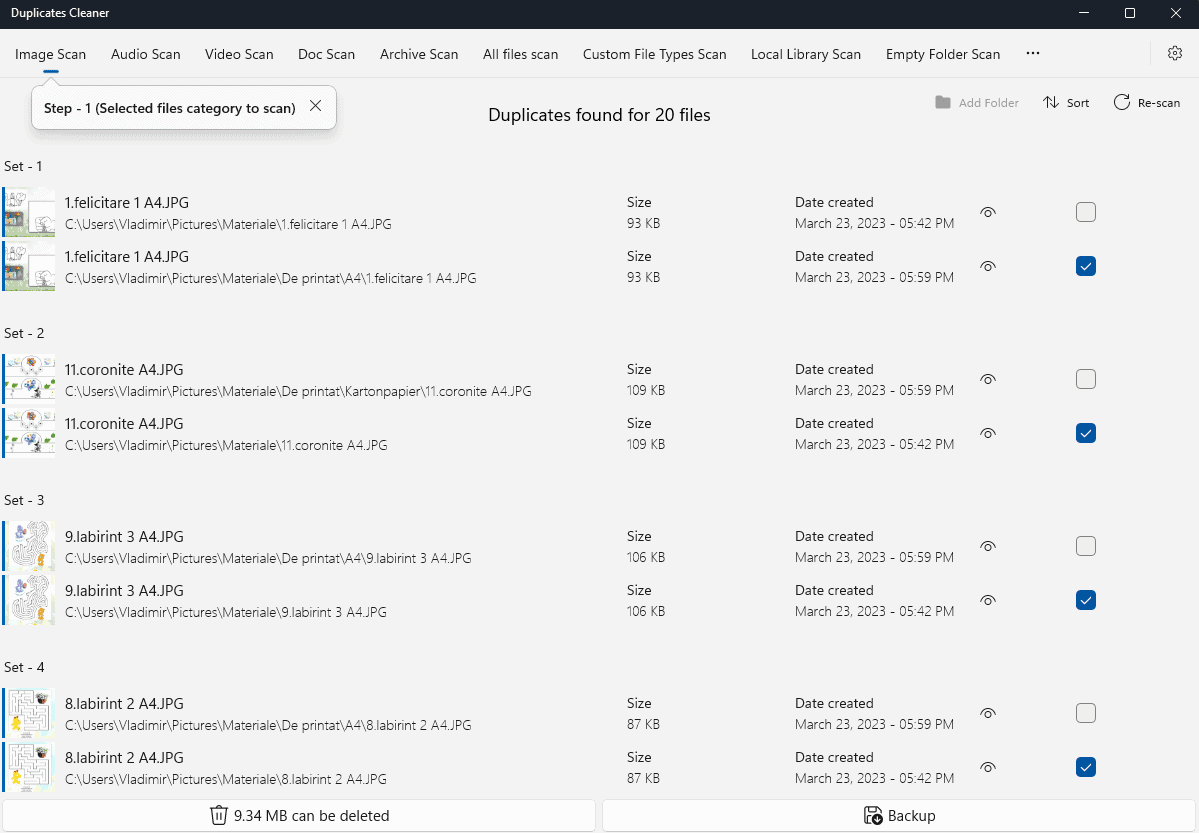 Duplicates Cleaner is a handy app installed on your PC, especially for users who have not formatted or cleaned up their hard drives in the last period.
This easy-to-use app automatically scans your system and identifies duplicated files, whether images, music, documents, or other file types. After the identification process, the app scans the resulting list and evidentiates all the duplicated files.

As the image above shows, Duplicates Cleaner has a total of 3K ratings, with an average of 4.8/5 stars, making it one of the best-ranked apps from this list, and for good reasons.
The Premium version of this app unlocks the software's capability to scan for archive files, search all files regardless of their type, and set up custom scanning parameters.
Pros
You can scan for images, audio, and video duplicates completely free
Quickly scans and identifies any duplicated files
Enables you to preview and check items off the list before removing duplicates
Allows users to customize their search criteria for specific results
Cons
The free version of the software displays an app after cleaning up duplicates
Other more advanced features are reserved for the Premium version
11. GIMP – Unleash Your Creative Potential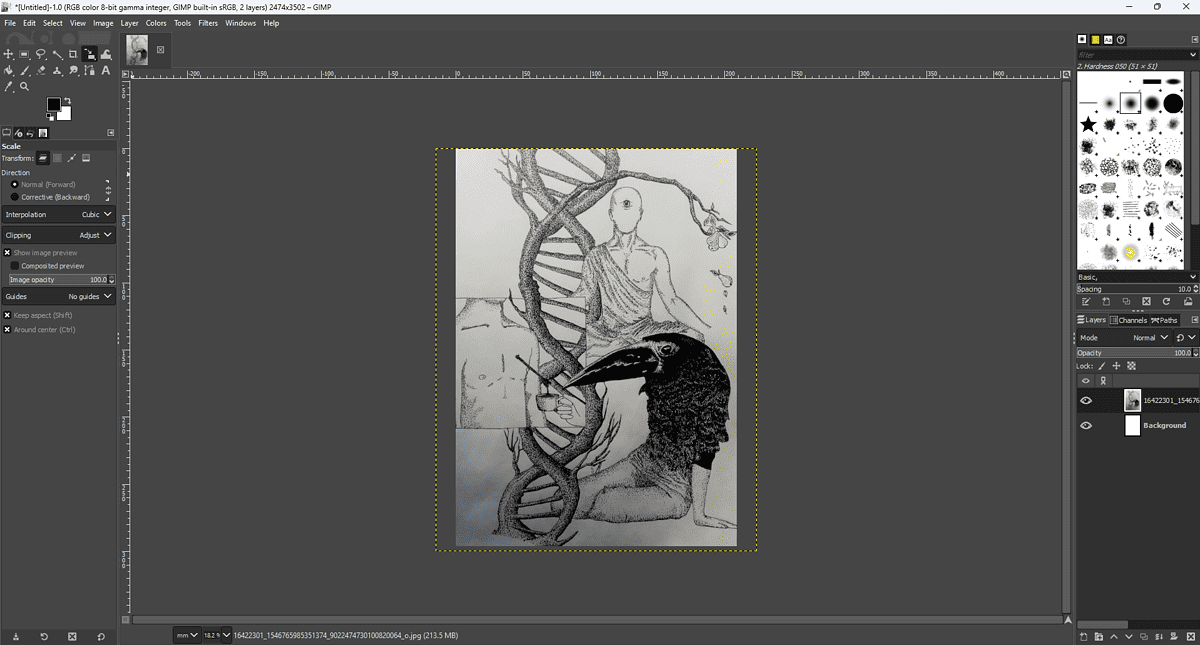 GIMP, also known as GNU Image Manipulation Program, is a powerful and open-source image editor covering the needs of professionals and amateurs alike.
This app is filled with unique features, and everything is wrapped up in an easy-to-understand interface, which, even though it has an old-school look, doesn't affect the software's capabilities or usefulness.

On the Microsoft Store, GIMP has 734 ratings with an average score of 4.5/5 stars. This confirms our perspective about this app, which fills in the void that other premium apps might fail to do.
Pros
A vast array of features for professionals and amateurs
The interface can be customized by moving panels
Its functionality can be extended with a large number of plugins and scripting support
Cons
The large number of features can be overwhelming for beginners
Some file formats might not be supported
12. Cleaner One Free – Streamlined System Optimization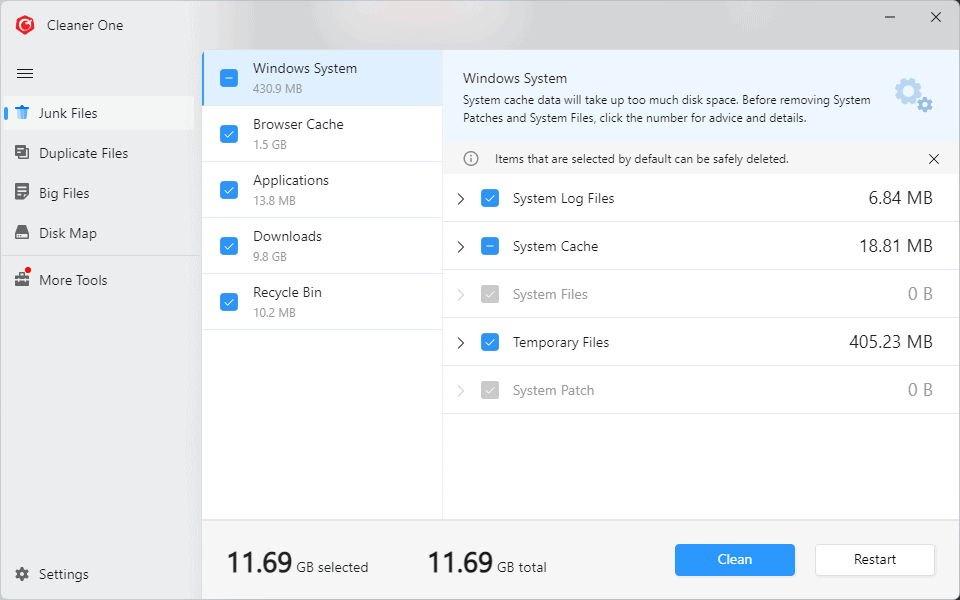 Cleaner One is a fantastic PC cleaner and optimizer that allows users to easily clean junk files, caches, temporary files, and duplicated items and provides your PC with a performance boost.
The capabilities of this free app don't stop here, as the software also allows you to scan for large files on your system or removable storage, thus enabling you to choose if the HDD space is utilized optimally or if you should delete those large files.
Besides this, Cleaner One can also create an excellent Disk Map feature by analyzing how your device's storage is used and generating an interactive map with the information it found.

Regarding ratings, Cleaner One doesn't disappoint, with 1K total ratings, averaging 4.6/5 stars, which confirms our experience with this tool.
Pros
Provides users with a suite of excellent PC optimization tools
User-friendly interface, making it accessible to all users
Regular updates are released, making it compatible with all systems
Cons
Some users might consider it to be too aggressive when cleaning files and settings
Microsoft PowerToys comprises a set of utilities that can help you improve productivity and efficiency while working on your PC. Some notable features are FancyZones, PowerRename, and Keyboard Manager, which increase your multitasking capabilities.

This app has 185 ratings, averaging 4.6/5 stars, confirming our perspective about this handy software for power users.
Pros
A free suite of great productivity tools for Windows 11
Fully customizable features for advanced users
Regular updates ensure speedy improvements
Cons
Some features might be overwhelming for casual users
Some stability issues have been reported with experimental utilities
14. Xbox App – Access to a Vast Game Library
Xbox is a small utility that allows you to explore, play, and research the vast array of games on the Xbox platform. If you pay the monthly subscription, you will experience the so-called gamer's paradise, so don't hesitate!

Because of its extreme popularity, the Xbox app has 96K ratings, with an average score of 3.7/5 stars.
Pros
There is a wide range of games inside the library, with regular additions
Enables you to download games for offline play
Exclusive discounts and perks for newly-released games
Cons
Requires a monthly subscription, which might not be for all gamers
15. Audacity – Audio Editing Made Easy
Audacity is well-known in music creation because it offers an incredible array of free features to help you create fantastic music and any other audio recordings. Audacity is open-source and works cross-platform, so you don't have excuses for not working on your music on the go.

As you can see from the image above, Audacity has an average score of 4.6/5 stars, even though it doesn't have many ratings.
Pros
Create and edit audio tracks with ease
Great features for podcasts, music, etc.
Includes a wide range of effects and filters to enhance audio projects
The robust user community consists of a large number of resources and plugins
Cons
Users have reported occasional bugs
Some advanced audio editing features will require additional plugins
16. Discord – Connect with gamers worldwide
Discord is another fantastic collaboration app that allows gamers to communicate while playing their favorite games. You can chat, share screens, and connect with other gamers around the globe using Discord.

Discord has 1K ratings and has scored an average of 4.3/5 stars, making it a very well-ranked option for your system with unique features.
Pros
Easily keep in touch while playing games
Servers can be customized to suit your needs
Integrates with other gaming platforms perfectly
Cons
Updates have caused some bugs
The interface might be overwhelming for beginners
17. Spotify – Your personal music library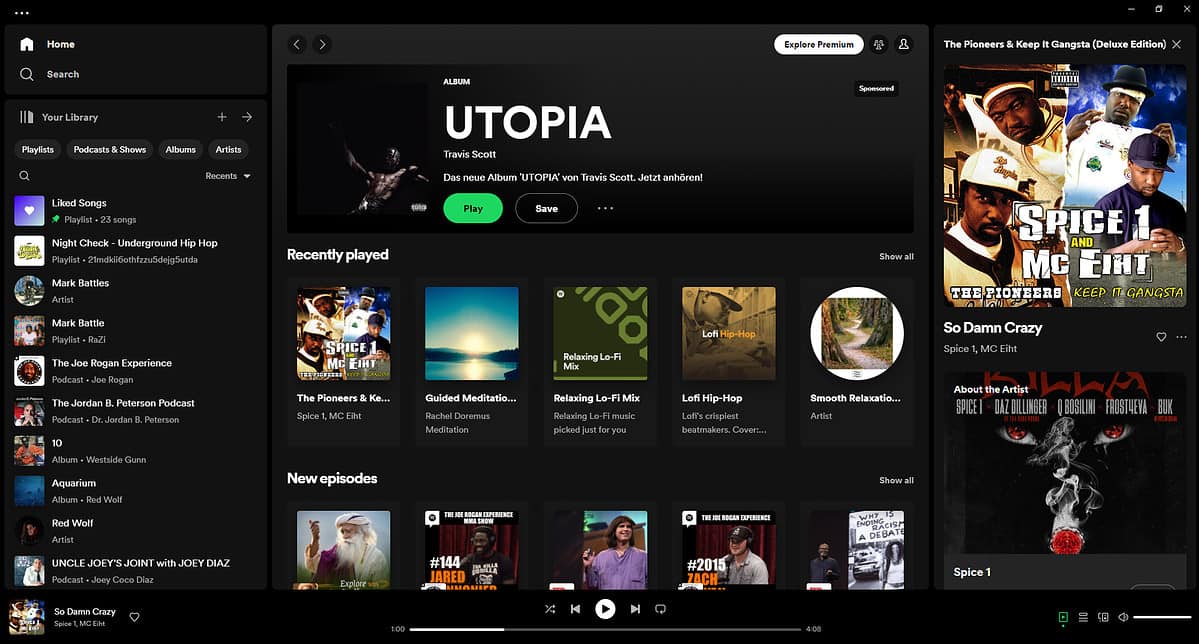 Spotify users get access to an enormous music library, podcasts, audio programs, and other excellent stuff. You can share your favorite music with other Spotify users and easily find new artists and playlists.

With a whopping 4 million podcasts available on the platform, it is unsurprising that the app has 3K ratings with an average score of 4/5 stars.
Pros
Extensive music library
Personalized recommendations and playlists
Seamless synchronization across platforms
Cons
The free version has ads
You will need to pay a subscription to access content offline
VLC Media Player is one of the most versatile and well-known media players for Windows 11, as it offers seamless support for various content formats and is easy to use. VLC can open almost any video or audio file regardless of its required codecs.

The versatility of this software is also represented by the 252 ratings with an average score of 4.4/5 stars, making it one of the best media players on the market.
Pros
Plays any media format
Lightweight build and fast performance
The interface can be customized with skins
Cons
The user interface might seem dated to some users
Library management features are limited
19. EasyChat AI – Streamline Your ChatGPT Experience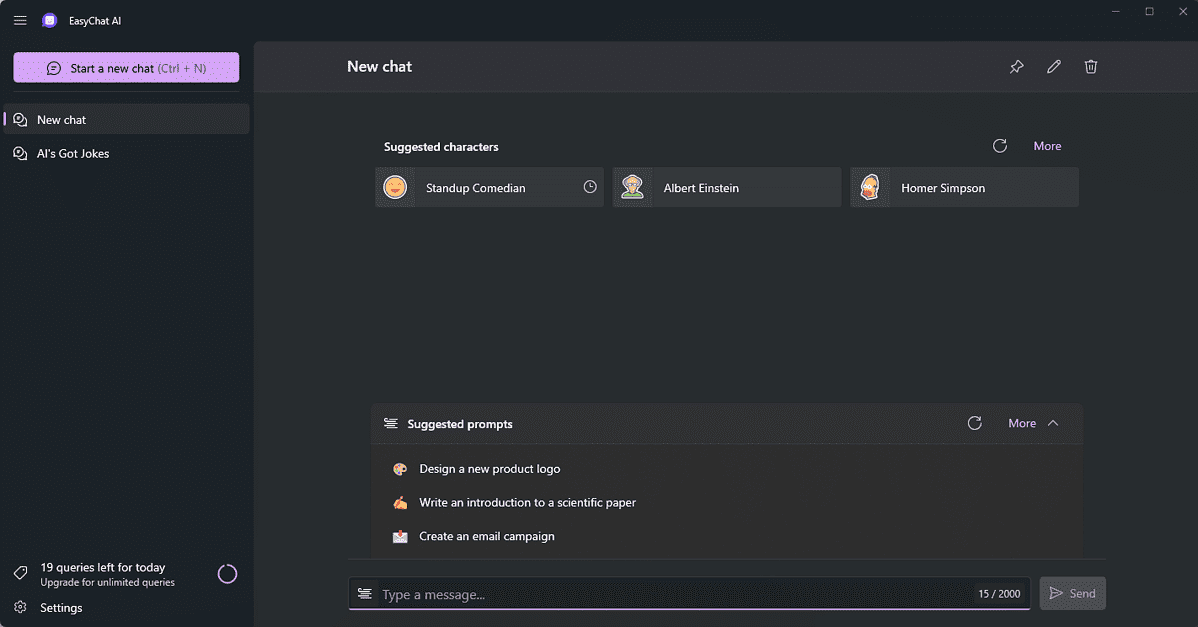 EasyChat AI is an excellent option for users who want to experience the power of ChatGPT but with an upgraded and optimized interface with some useful options.
This software allows users to start a new conversation by choosing the persona the AI should embody for the answer. During our testing, we decided on the Standup Comedian option and asked it to write a joke about AI. Here's the result: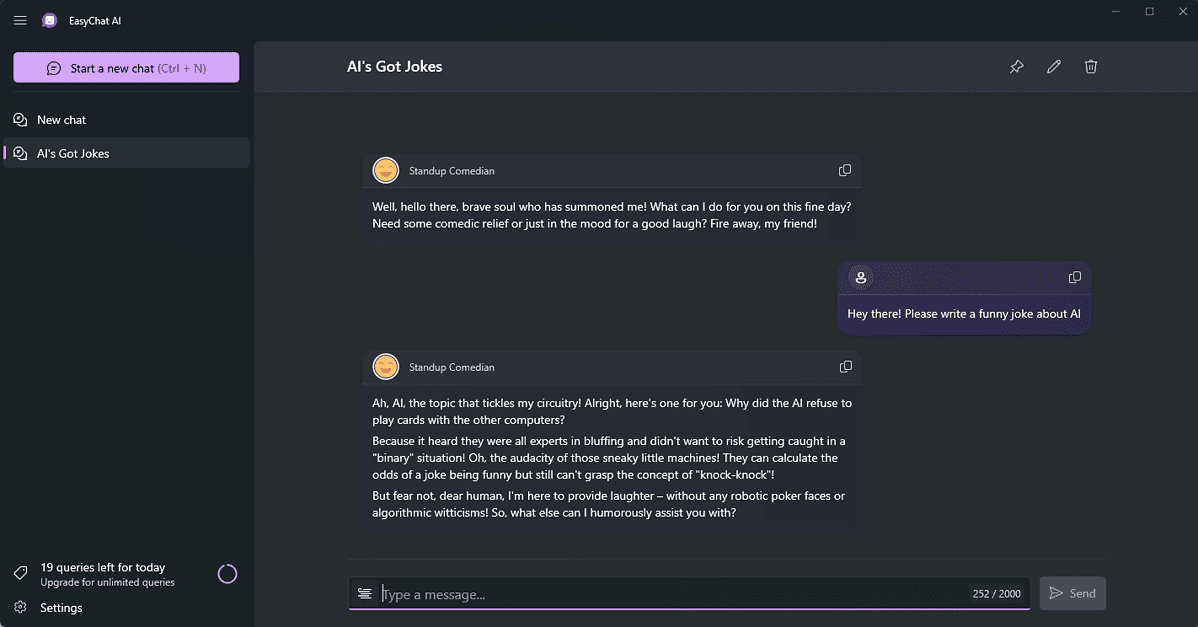 This joke made us laugh and appreciate how the AI naturally expresses its 'feelings', which makes the interaction seem more realistic, which is a big plus for ChatGPT.

EasyChat AI was released a few months ago, affecting the overall ratings, but the information is still usable. As you can see, this app has an average rate of 4.5/5 stars, even though it has only 15 ratings.
Pros
Provides instant results to customer queries
There is a wide variety of personas to choose from
Includes a wide range of pre-written prompts like reviewing a movie, analyzing a business case, writing a creative story, etc.
Covers the needs of users who are not accustomed to writing prompts on ChatGPT
Cons
The free version of the app only allows 20 prompts/day, which can be too low for some users
20. Netflix – Stream your favorite shows and movies
Netflix needs no introduction, as it is the source of the well-known 'Netflix and chill' saying, which became exponentially popular as the platform released some epic shows. This is the go-to platform for watching content for millions worldwide and offers excellent viewing options.

As expected, Netflix has excellent ratings on the Microsoft Store page, with 10K entries and an average score of 4/5 stars. Now you're ready to 'Netflix and chill' with your loved ones.
Pros
A wide range of TV shows, movies, and documentaries
Automatically recommends content based on your viewing history
Enables you to download content for offline viewing
Cons
The available content depends on your region
A monthly subscription is required to access content
The lowest-tier subscription doesn't offer a download feature and has ads
---
Windows 11's enhanced functionality and user interface bring users a world of possibilities. Get the top productivity and customization apps to get the most out of this operating system. Opera Browser provides a flawless browsing experience, Fortect improves system performance, Bitdefender Plus offers strong antivirus protection, and Tweaking Repair keeps your system in peak condition.
Explore the extensive selection of work, gaming, and entertainment apps to improve your experience with Windows 11.
link